The Connelly & Coyle Families.
There are valuable lessons to be learned from history. Allowing it to be forgotten is not only ignorance, it's disrespectful to those who came before us, who shaped our lives. Knowing and sharing our family history is more than a hobby, it's our duty.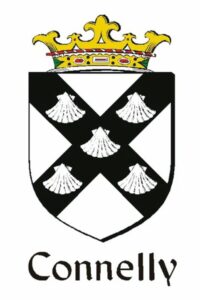 Connelly is an Irish name and there are many variations, including O'Connolly and Connaleigh. This common surname has a tough meaning behind it and, as you might expect, it's one of the most popular in Ireland.
Connelly is generally considered to be an Anglicized form of the Old Gaelic O'Conghaile. It means "fierce as a hound." The name consists of the Gaelic prefix "O" indicating "male descendant of," plus the personal byname Conghaile. Con, comes from a word meaning "hound," and gal, means "valor."
Connelly was originally an Irish clan from Galway on the western coast of Ireland. Connelly families also settled in County Cork in the southwest, County Meath just north of Dublin, and County Monaghan on the border of Ireland and Northern Ireland.
Connelly is one of the 50 most common Irish surnames in modern Ireland.
The surname Coyle has origins in England, Scotland and Ireland. The Irish Coyle stems from the gaelic "Mac Giolla Chomhghaill" meaning "the son of the servant of St. Comhghall".